The UEFA Youth League match between RB Salzburg and Lyon seemed pretty unremarkable when the day started.
However, it produced one of the most astonishing recent moments in football.
RB Salzburg goalkeeper, Daniel Antosch, must have felt very confident when facing up to a Lyon penalty.
The confidence paid off when he dived the right way and saved the spot-kick.
However, that save was nullified when the referee blew his whistle again, ordering the kick to be retaken because of encroachment.
The kicker, Florent da Silva, stepped up again and, yet again, his kick was saved by Daniel Antosch.
The goalkeeper's joy, however, was short-lived after the referee blew his whistle once more.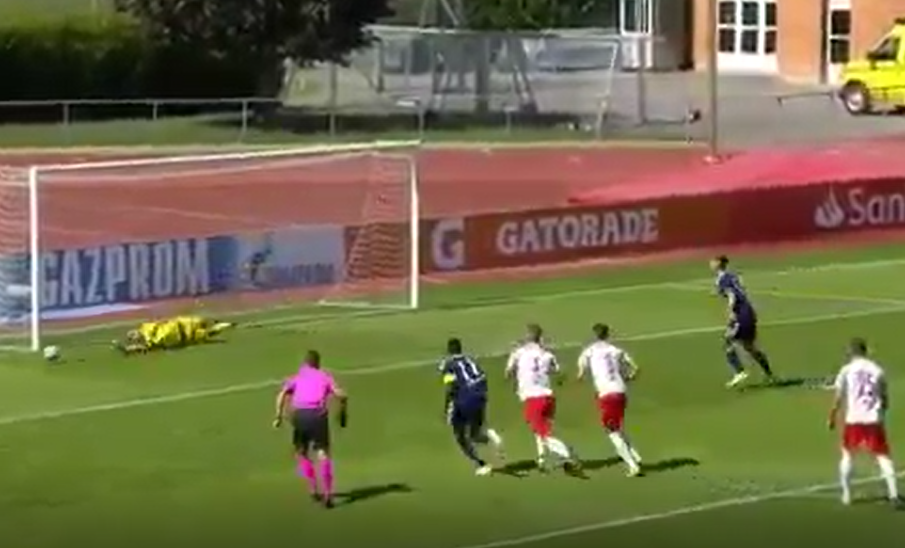 da Silva opted to try and redeem himself after the first two misses and stepped up for the third time.
He shot in the other direction but yet again, the keeper guessed the right way and saved the kick which was finally allowed to stand by the referee.
A video of the incident was posted on social media went viral.
Incredible mental strength from the keeper tho sheesh

— Irie_Rastaman (@Jah_Rasta14) August 20, 2020
The coach after those penalties pic.twitter.com/LrTWhCAs5F

— Jez🇬🇭 #BLM (@Ygjez) August 20, 2020
I thought he would do it again and get a red card lol

— csfifaking (@csfifaking) August 20, 2020
Coach standing there like. pic.twitter.com/kgDc8EWhxS

— UNDERCOVER AGENT (@ntabalasa) August 20, 2020
Why did the same player take all 3 penalties?? Should of changed Jim after the 2nd 🤦🏻‍♂️

— Richard Carr (@Richscfc2020) August 20, 2020
Take a look at the video below:
How the hell, do you miss 3 penalties in a row 😂😂😂😂 pic.twitter.com/FZoFcGsLoh

— The Cheek Clapping Connoisseur (@mikeviceo) August 19, 2020
Salzburg came from behind to beat Lyon 4-3 on the back of a Chukwubuike Adamu hat-trick.