Little Norbert, just about two years old, runs around his home somewhere in Germany, and his mother watches with pride.
She's seen it all before.
Actually… she's been there, done that, and won plenty at athletics' biggest events.
Call Vida Anim the finest female sprinter in Ghanaian history, and not many of her compatriots would offer a contrary opinion.
These days, Anim is living the quiet life of a mother to Norbert, helping him take his first steps, and, sometime in the future, maybe his first steps on the tracks, too.
And if he does end up there, Norbert would have extra help from his father, Harry Adu Mfum, an athletics coach who also once represented Ghana. But, of course, this is neither Norbert's story nor Harry's.
It's Vida's, and it begins in Atebubu-Amantin, somewhere in Ghana's Bono East Region.
***
"In that town," she recalls, "there were two major basic schools, one run by the Roman Catholic Church, the other by the Anglican Church."
The two schools shared a healthy rivalry in athletics, and the latter enjoyed some superiority — until one young girl appeared on the scene, disrupted the status quo, and changed the game.
"I was involved in quite a few of the track and field events, high jump, long jump, etc, and helped the school rack up enough points to break the Anglican dominance," she says.
Anim even went on to represent the school at the regional games, but, in those early days, she considered her involvement in those competitions as little more than extra-curricular activity she happened to have an aptitude for.
A move to Ghana's Ashanti Region, the country's sports hub, if you like, to join her father soon changed all that, however.
"At the Konongo-Odumase Senior High School (KOSS)," she told Citi Sports, "there was a slot for a relay runner and the authorities inquired if I might want to take it up.
"I did, drawing on my little experience from basic school, and by the end of the race — during which I made up ground and eventually overtook the sprinter ahead of me — I was the toast of the school."
Things were getting really exciting, really fast.
***
It was obvious to whomever saw her in that race — students, tutors, and even her own dad — that Anim's talents were special, her potential vast; if developed, she could go all the way.
Before long, her fame had spread far beyond the walls of KOSS, attracting better-placed suitors.
Osei Kyeretwie Senior High School (OKESS), another of the region's elite second-cycle institutions, and one more reputed for grooming future sporting talents (former Ghana football stars John Mensah and Sulley Muntari are just two of several examples), whisked Anim away to take her development up a notch.
"At OKESS, I had the opportunity to train at the Baba Yara Sports Stadium, where the national team and its coaches were often present for their own training sessions," she says.
Inevitably, a gem as bright as Anim was always going to catch the eye, and especially when she had become a regular feature at the regional inter-school games, where the platform was bigger and the pressure higher.
"That was my ticket to joining and competing with the national team," Anim says, "topping the juniors, and performing creditably among the seniors."
Academics, at this time, were beginning to take a back-seat, as maintaining a balance became harder. But Anim wasn't overly concerned. Her future, clearly, lay on the tracks, and she was racing towards it.
Her first major step in that pursuit?
A place in Ghana's team at the 1999 All-Africa Games, in what was only her first year in high school, aged 16.
No pressure…
***
"That was some experience," Anim recollects, the nostalgia rippling through her voice, going on to explain what accounted for an 8th place finish in the 200m race.
"I was only just embracing that level of competition, remember, and my start wasn't — and hasn't ever been — exactly strong. It didn't help, either, that this was the very first time I was running in spikes and off blocks."
It wasn't so difficult, then, for Anim to shrug off her rough international debut; she was just warming up, after all. And it was just as well that she did, given how busy — and how eventful — the schedule would get in the very next year.
Anim was still in school when, in 2000, she traveled to the World Junior Championships in Chile. There, she finished third and fourth in the 100m and 200m respectively (both won by a young Veronica Campbell Brown), but Anim had already made greater waves earlier that year, as part of a brilliant 4×100 m national relay team.
Along with the more experienced trio of Vida Nsiah, Mavis Akoto and Monica Twum, Anim sprinted to gold at the African Championships in Algiers (her future husband, Harry, would mirror that feat at the same event).
A month later, at the Olympic Games, the team ran even faster, and it didn't even matter that they had no medals to show for it.
The time clocked, 43:19s in the semi-finals, was a national record that, remarkably stood for 16. That success, though, wasn't exactly surprising. Ghana, regardless of the form of its individual sprinters at any point in time, is used to seeing the pieces fall into place in the relay.
Anim has an idea why.
"In the relay, the flaws of each sprinter, my characteristically poor start, for instance, are minimized, as, aside the starter, we all enjoy a running start," she explains.
"It is more about teamwork and the collective, not the individual.
Four years later, at the next Olympics, it was all about the individual: Anim, lapping up the praise and plaudits for breaking a national record (11.14s) that had been set at the preceding Games.
"That was an exciting feeling," she says, "when it dawned on me just what had been accomplished. I was overjoyed beyond what words could describe.
"It was, I think, in the heats that I made that mark, and I was raring to go even better in the semis — which I just might have, but for an injury suffered."
The record Anim smashed (11.18s) had belonged to her namesake, Nsiah (mentioned earlier), whom Anim has always held in the utmost regard.
"Going into the Sydney Olympics, I had one of the best times among the potential candidates for the relay, yet there was strong agitation from some of the seniors to knock me out of contention," Anim says.
"But Nsiah argued my case, securing a role for me in that historic, record-breaking quartet. She really looked out for me, I must say."
***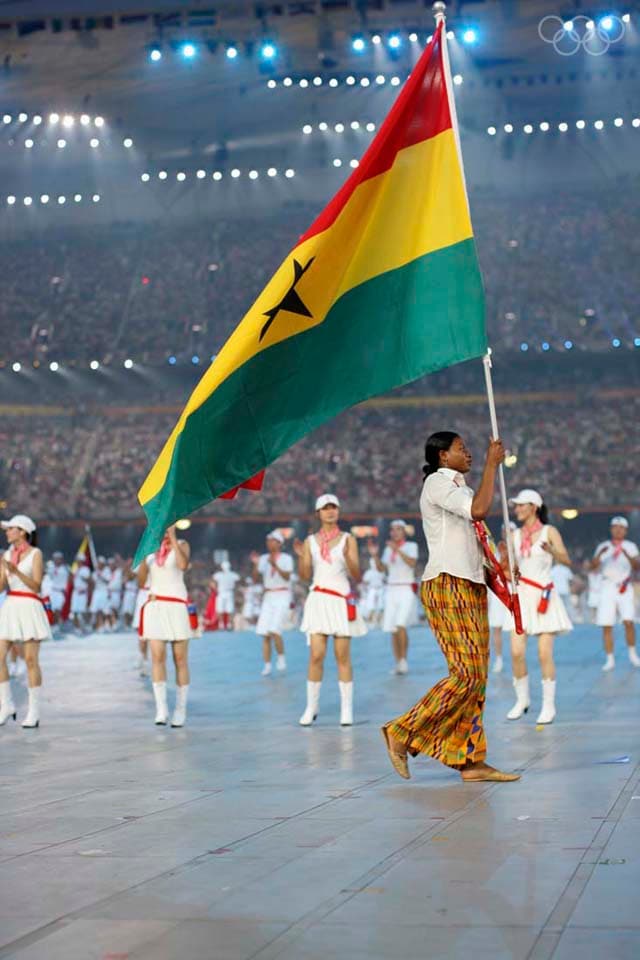 The best was still to come for Anim.
That was, unarguably, in 2006, her annus mirabilis, when everything she touched turned into gold. Or thereabouts.
At the African Championships in Mauritius, Anim won all three events she participated in; 100m, 200m, 4×100m; and, at the IAAF World Cup, she finished on the podium in all three events.
Vintage Anim, surely?
She nods.
"I was coming from a deep place of despair and disappointment, following the aforementioned injury I suffered in Athens. I hadn't competed for two years, and so I was quite surprised about the numbers posted that season. It felt like a grand reward, for all that I'd been through."
That year, Anim heard Ghana's national anthem played six times, after each of her medal-winning performances — a sound she never got tired of soaking in.
"The atmosphere and the joy is different — the knowledge that it was because of my performances that the anthem was being played on such grand stages. Wow!"
As incredible as that feeling was, Anim was almost lured into turning out for another country: Germany, where she was based and is now settled.
"It was at a time when Ghanaian athletes were increasingly frustrated by financial challenges," Anim explains.
"We were not being treated fairly, expected to foot bills that weren't ours to deal with in the first place, and promises were being broken.
"And so switching nationality — or, at least, threatening to do so — was certainly en vogue. Ignatius Gaisah, my colleague, eventually went through with it [now representing the Netherlands], and I was tempted to do same, as I was eligible."
Not giving in to that urge wasn't such a bad thing, given that Anim was yet to feature at the competition she picks out as the most memorable of her career. Surprisingly, it came when her powers were supposedly waning.
"Ahead of the 2011 All-Africa Games, there was talk of me being on the decline, especially after I struggled in the Kumasi Grand Prix," she says.
"What many, even among the national officials, didn't know was that I was battling an injury at the time. And yet they wrote me off, in favour of the younger faces, so I was determined to prove in Maputo that I wasn't quite done."
And she did just that, winning silver in the 200m, proof to herself and her doubters that she was still capable.
In truth, though, Anim's body was already beginning to fail her; it wasn't going along, certainly not as quickly, as she would have wished.
One year and two events — the last of which was an underwhelming outing at the Olympics in London — later, she crossed the finish line for one final time.
***
Norbert is at that age where he requires constant monitoring, so there isn't much time for Anim to follow the world of athletics. She's not exactly enthused, however, by the little she is able to observe.
"Athletics has become too complicated," she says. "The false start rules are now very harsh, and the relay is much harder. Generally, things are way more difficult, compared to what they were back in the day."
And she is even less excited about the state of affairs in athletics back home.
"I don't think much has changed," she says, and it hasn't escaped Anim's attention that she remains the last female Ghanaian sprinter to win a solo gold medal.
"We have a lot of athletes going to the USA for school," she explains, "and the nature of the track and field seasons there leaves them handicapped.
"In my time, we competed in both European and American events, affording us several opportunities to fine-tune our preparations for the major competitions ahead."
A return to that approach, coupled with some extra work, Anim believes, could take Ghanaian athletics beyond heights even she, in all her glory, wasn't able to scale.
"Anything — even Olympic triumphs, of which Ghana has been starved — is possible" she opines.
"Our athletes are just as talented, but we lack the facilities. Africans are naturally strong, and that's already a significant advantage, so we only need to get all the other factors right to get there."
And that generation might just be Norbert's, you know, with Anim, even as she does now, watching with pride.
Vida Anim's Competition record***
Year
Competition
Venue
Position
Event
Notes
Representing  Ghana
1999
All-Africa Games
Johannesburg, South Africa
8th
200 m
23.81
2000
African Championships
Algiers, Algeria
1st
4 × 100 m relay
43.99
Olympic Games
Sydney, Australia
9th (sf)
4 × 100 m relay
43.19 (NR)
World Junior Championships
Santiago, Chile
4th
100 m
11.58 (wind: +2.0 m/s)
3rd
200 m
23.81 (wind: +0.7 m/s)
2002
Commonwealth Games
Manchester, United Kingdom
21st (h)
100 m
12.27
2003
All-Africa Games
Abuja, Nigeria
3rd
100 m
11.29
2nd
200 m
23.17
World Championships
Paris, France
13th (qf)
100 m
11.29
14th (sf)
200 m
23.16
2004
World Indoor Championships
Budapest, Hungary
11th (sf)
60 m
7.25
Olympic Games
Athens, Greece
31st (qf)
100 m
DNF
2005
World Championships
Helsinki, Finland
17th (qf)
100 m
11.41
19th (h)
200 m
24.16
2006
Commonwealth Games
Melbourne, Australia
12th (sf)
100 m
11.51
6th
200 m
23.34
African Championships
Bambous, Mauritius
1st
100 m
11.58
1st
200 m
22.90
1st
4 × 100 m relay
44.43
World Cup
Athens, Greece
3rd
100 m
11.21
3rd
200 m
22.81 PB
3rd
4 × 100 m relay
43.61
2007
All-Africa Games
Algiers, Algeria
3rd
100 m
11.33
2nd
200 m
23.29
1st
4 × 100 m relay
43.84
World Championships
Osaka, Japan
20th (qf)
100 m
11.36
26th (qf)
200 m
23.47
12th (h)
4 × 100 m relay
43.76
2008
World Indoor Championships
Valencia, Spain
22nd (sf)
60 m
7.45
African Championships
Addis Ababa, Ethiopia
2nd
100 m
11.43
6th (sf)
200 m
23.76
2nd
4 × 100 m relay
44.12
Olympic Games
Beijing, China
15th (sf)
100 m
11.51
2009
World Championships
Berlin, Germany
13th (sf)
100 m
11.43
20th (sf)
200 m
23.36
2011
All-Africa Games
Maputo, Mozambique
4th
100 m
11.37
2nd
200 m
23.06
2012
World Indoor Championships
Istanbul, Turkey
18th (sf)
60 m
7.36
Olympic Games
London, United Kingdom
43rd (h)
200 m
23.71