When I first met Sam Johnson, in 2020, the world had been thrown into pandemonium. The World Health Organization had declared COVID-19 a pandemic, and a lot of lives had been turned upside down. 
As upsetting as the pandemic was for Sam Johnson, chances are it didn't compare to the centre back's first year in Fenerbahçe, in 1999, when the team was in a poor run of form.
"It was like hell," Johnson recalled at our second meeting in November 2021. 
"Just around that time, there was a massive earthquake that had hit our town and people had lots of loved ones and property."
"The trauma was so much. You end up getting sleepless nights, and I can tell you it was the most difficult time in my football career."
Just as the world is healing from the coronavirus pandemic, Johnson overcame a difficult start to life in Fenerbahçe to cement himself in the hearts of the Istanbul club's fans.
Now 48, he is based in Dansoman, Ghana after a fulfilling career, albeit one not filled with as much silverware as he would have wanted.
I was intrigued to spend significant time with the man many people affectionately called "Foyoo".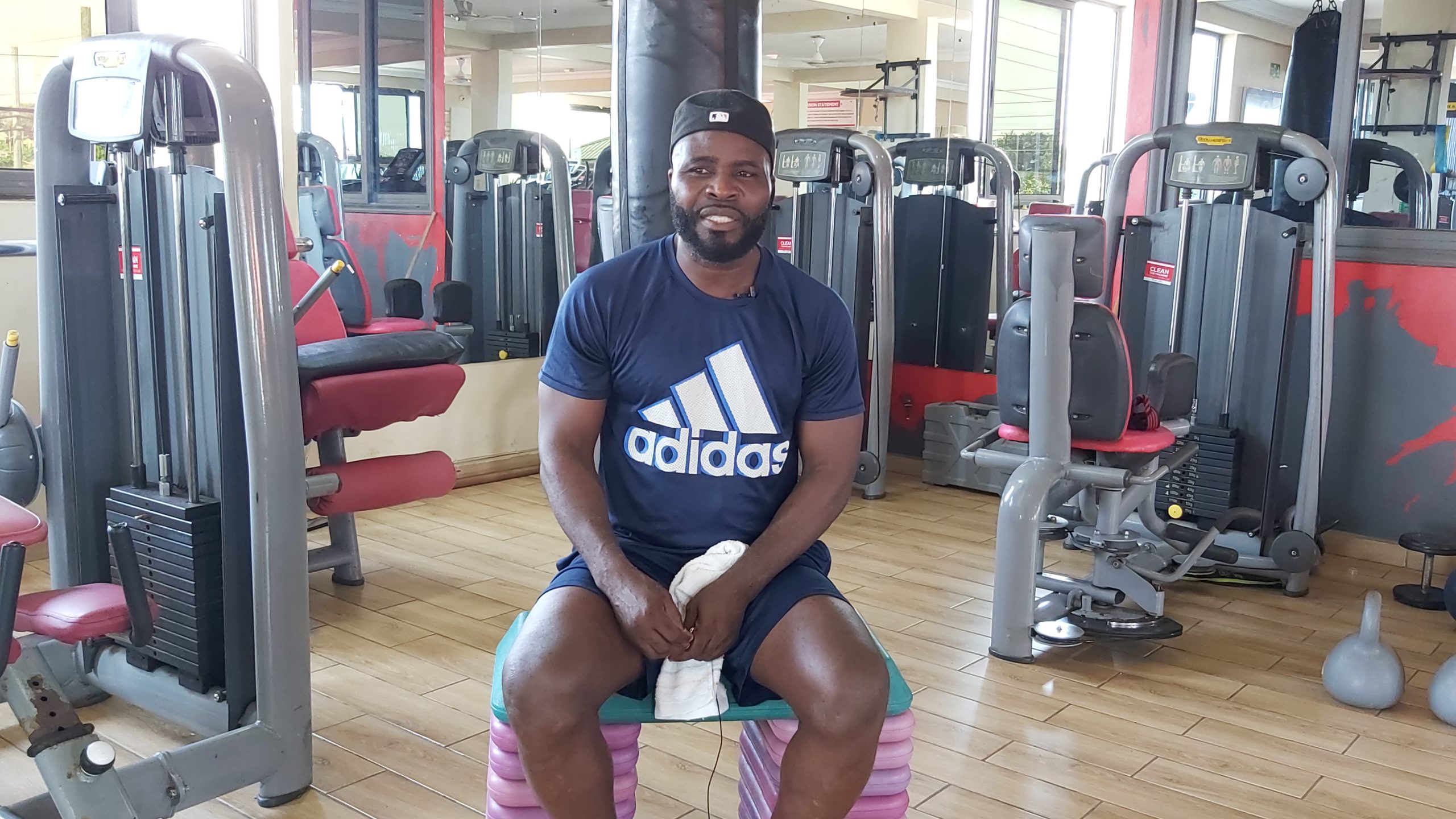 As I walked the path to his current line of business; the Body Fitness Centre, I was reminded that he looked more like a boxer than a footballer. Indeed, I had once mistaken him for one, in a discussion with my colleagues.
Johnson did not win it all, in his football career, especially not with the Black Stars. 
However, all who watched could testify to his passion and drive to help the team. There are days he could play dirty and rough, others where he looked like a fine dribbler and goal scorer.
It is no surprise he looked up to one of Ghana's legendary Hearts of Oak attacker, Mohammed Polo.
"Growing up, I was watching the likes of Mohammed Polo and others and I remember after every game, when I got home, I'd steal my fathers' socks and then try and mimic the style of play of Mohammed Polo," he recalled.
The former defender played for six clubs before hanging up his boots at Kayserispor in 2006.
He started his journey as a footballer at two colts clubs before joining Accra Hearts of Oak, his first professional club.
"I started playing at the age of nine, I started playing for Kinarisen Babies and then moved to Sonny Halifax and then from there I joined Hearts of Oak in the 1989/1990 season," he said.
Sam Johnson broke into a Hearts of Oak team that featured the likes of Joe Addo, Osman Amadu, Idi Osman and Thomas Quaye.
He described them as "proper footballers" and admitted that it was not easy to get to play ahead of some of them. 
Looking back at his career at Accra Hearts of Oak where he won just one trophy in over five years at the club, Sam Johnson describes his time there as "fantastic".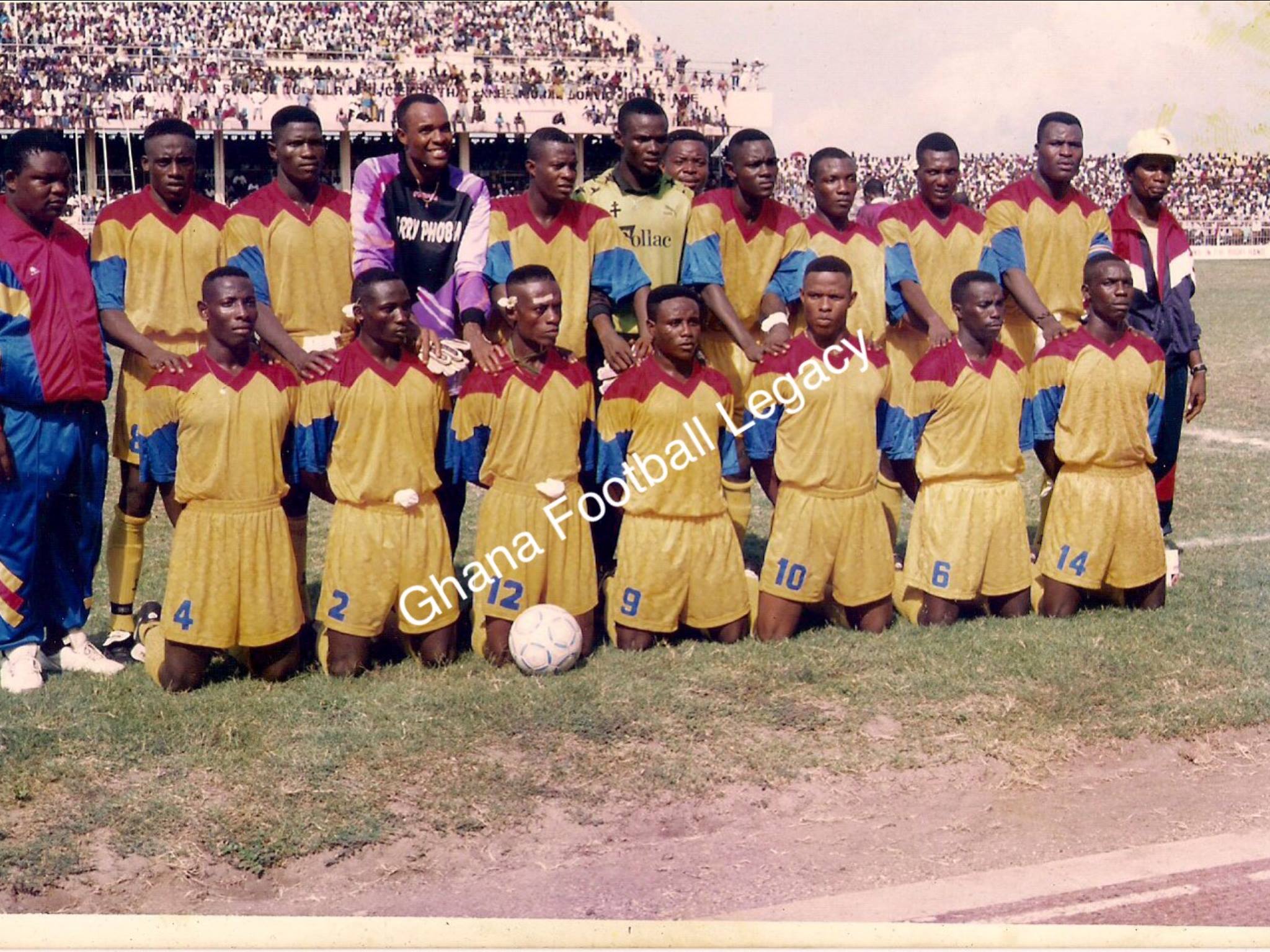 It happened that during his time at Hearts of Oak, he earned a call-up into the national team when Burkhard Ziese was head coach of the Black Stars.
Johnson remains grateful that he started his professional career with Hearts of Oak, a club he supported as a child.
"When I was a child, Hearts of Oak and Olympics were the only teams in Accra. My family was also tilted towards Phobia too, so it was just right I supported the club."
"I never regret making that choice for myself, although there were some things I didn't like in my time there. But I'm very glad I started my career there," he said.
After his successful spell at Hearts of Oak, Johns left for Greece to join Kalamata FC in 1995.
It was on one of the many times he got a call-up to serve his country when he got the offer to join Greek side, Kalamata.
"Before moving to Kalamata, I didn't know there was even a club like that but I knew there was a country called Greece and that was the main reason why I joined them. During the friendly games in Australia, we had to play the host country and so, I was moved from striker position to play as a centre-back. During the game, the president of Kalamata came to watch and he was so impressed with me playing as a defender. Subsequently, I got offers from Turkey too and then Sly Tetteh told me about it and I jokingly told him I don't want to eat Turkey and all I wanted was to go to Greece, not necessarily Kalamata but because I couldn't even picture Turkey on the world map."
Sam Johnson was a very good striker, but he was a monster of a centre-back and every striker would absolutely hate playing against him. It was this quality at Gaziantespor that led him to Fenerbahçe; a club where he would later cement his spot as a legend.
Everything starts on the ground, and for Sam Johnson, who has been on the ground, from Hearts of Oak, he understands what it means to play for a club whose core are the fans and whose fans are passion-filled.
"I can say that after Accra Hearts of Oak, Fenerbahçe is the best club I have ever played for. I really appreciate everything they have done for me and I love the club," he highlighted.
"Their fans are just like Hearts of Oak and when I got there, in my first year, things were so bad. It was so bad that when we started the game, we wanted it to end immediately so we could at least walk away with a draw because we knew at the end of 90 minutes, we were going to lose."
"It was so bad that fans even started beating some of the players. This is because they support with so much passion and you can feel it in your bones."
"There was a game we played and when we lost, I saw a young boy crying and then when his father saw him cry, he also broke down into tears. That moved me so much and I asked myself why we were we doing this to these people."
"All these things pushed me to give my best for the club. I remember I once had a rib injury and after a week, I returned and I was given some injections and I played through the pain for the club just to make them happy."
It is no easy thing to earn the tag as a club hero, especially at a club as historic as Fenerbahçe but one super performance against Fenerbahçe's fiercest rival, Galatasaray, will cement his name in the history books of the club for life.
"There was a year where Galatasaray was the best club in Turkey and one of the best in Europe and when we played against them, I scored a rocket and that was when I cemented my name as a club legend. My goal won us that grudge match and the fans now saw me as one of their own."
Things were not always rosy at Istanbul for the Ghanaian. He recounts a harrowing experience with a new manager and a period where an earthquake shook the capital of Turkey amidst the club's failure to win football games; a sour memory he will never forget.
"I remember in my second year at the club, a new manager came in and made it clear that he didn't want me in his team. Even to the point of granting interviews saying that he will not play me. But you know me, I am a fighter. I was told to train with the second team, I did but when things were getting out of hand, I was called back to the team."
"On my return to the team; we were playing against Ankaragücü and I did my job to perfection. Pass, tackle, win the ball and if I had to make a run, I did so productively. I made things so easy for the team that we won 4-1, the biggest win we ever had in that season and to put the icing on the cake, I scored. The fans left the stadium so happy and satisfied," he said.
There was a different kind of hell Johnson relished in Turkey; the derby games against Galatasaray
"Games between Fenerbahçe and Galatasaray are the biggest. I dare say it is bigger than Liverpool vs Manchester United and the El Classico."
The Fenerbahçe-Galatasaray is known as one of the fiercest matchups in football, with wildly passionate fans backing both teams.
"There are times when we played, both sets of fans were not allowed to enter the stadium and even if that happened, they had to leave 15 minutes before the end of the game. If they had to even stay, they had to stay for either two or three hours because the tension and chaos was so much. It was always intense," Johnson recalled.
"I relish those games. I love that atmosphere and I sometimes miss it," he added with a wry smile.
That is a part of his club glory, fame and journey but there is a patriotic side of Foyoo, a side many are fond of. Not for the wrong reasons, but the beautiful, passionate and sacrificial works for his country, Ghana.
"The Black Stars has been at the centre of many of my club transfers and that is why I do not joke with it at all."
"It has not been perfect all the time, but it has brought me a lot of things, and some good transfers. My first move to Greece was because I was on national team duties in Australia."
"I think my biggest regret during my years with the Black Stars is the fact that I never won any trophy for my country. It is my biggest regret in my career because you see people travel, showing you love, acknowledging you. It is only appropriate if you win them something. Make them smile."
"In my time, we had so many good players, I played with the likes of Abedi Pele, Yaw Preko, and the rest. I think we should have something. At least one Africa Cup of Nations because we were so good and we deserved a trophy but that is football for you", he said with a morose look on his face.
The muscled Johnson, after four years at Fenerbahçe made stops at Gaziantespor and Kayserispor before hanging his boots, but first at the national level after making over 40 appearances.
"Looking back at my career, my time with Fenerbahçe is closest to my time at Hearts of Oak. I love those two clubs and I am glad I played for these two clubs," he said.
"Summing up my career, taking into consideration everything, I will describe it as GOOD," he said with a broad smile on his face.
There is grandeur and humility in his way of talking, and going about his stuff. He is a man of immense strength. He is 48 but looks 25, very fit and you dare not call him old for he is Sam Johnson, ever-young.