Citi Sports guest football writer, Yaw Frimpong, argues why Madrid's 2021/22 Champions League victory is club President Florentino Perez's most prized one yet.
---
It's a sight that's quite familiar now: Florentino Perez, on the podium, watching on proudly as the Real Madrid captain picks up and lifts the UEFA Champions League trophy to the skies.
The last Madrid president to have overseen a European triumph was the late Lorenzo Sanz, at the turn of the century, with Perez taking the baton and running with it ever since.
The 75-year-old – born only two days after Madrid turned 45 – is now credited with nearly half (six) of Los Blancos' record 14 European Cup/Champions League conquests; that's just as many as the legendary Santiago Bernabeu delivered in a period twice as long at the helm of the grand old club – and he doesn't look quite done yet.
But while he may already have his eyes on the next, such is Perez's undying appetite, he'd have good reason to linger longer than usual in the glory of the latest European high.
You see, of those six trophies, three are of special significance to Perez. The first two – coming a dozen years apart – served as vindication of the galactico policy he broke multiple transfer records to implement across his two tenures.
The latest, however, satisfies an altogether different craving.
It comes at a time when Perez's stock is arguably lower than it has ever been. His reputation has taken a battering in the last year or so, the result of very public embarrassments to have befallen a man who usually gets whatever he orders.
The first incident came in April 2021, when Perez emerged front and centre of the ill-fated European Super League (ESL) project. That ambitious idea, enjoying very little popularity outside the circle of 'snakes' that conceived it, was strangled in its first few hours in existence and rendered stillborn by an outraged world.
The 12 pillars that held up the ESL started to wobble, before falling, one by one, until there were just three left: Juventus, whose chairman, Andrea Agnelli, had a chief role among the conspirators; Barcelona, too debt-ridden to see anything morally wrong with the ESL; and Madrid, where Perez – as he always does – stood firm.
And Perez has done more to defend his corner, to maintain some warmth in the ESL's dying embers, than anyone. If there is any hope that the ESL – someday, somehow, in some form – would be revived, it's because Perez has staunchly refused to pull the plug.
That possibility remains faint, perhaps, but as long as the ESL lies comatose and on life support, Perez shares very much in the aura of powerlessness and humiliation that has enveloped the competition. For now, it's Perez's word against the world – and there appears to be only one winner.
That winner, right now, isn't the former, as recent developments have drained Perez's word of its usual weight. With his ego still bruised in the aftermath of the ESL fiasco, Perez has been hit by a second blow, dealt by France star Kylian Mbappe's last-gasp rejection of Madrid's advances.
For months – years, even – it had seemed that Madrid were the club Mbappe would eventually join in playing out the best years of a career that, though incredibly illustrious already, promises so much more.
And why not?
Mbappe had made no secret of the fact that Madrid was the club he'd always dreamed of representing as a boy. Even better, he seemed to fit so perfectly into Perez's big picture, that overarching aim of placing the brightest star of each generation on Madrid's marble mantelpiece.
Perez had been saving up for it and was even ready to splash some of that cash on making the deal happen last summer, but Mbappe's club, Paris Saint-Germain (PSG), held their ground in hopes that their crown jewel could yet be persuaded to stay put.
Almost a year later, with the clock ticking down to decision time – the end of the 2021/22 season, that is, when Mbappe would have become a free agent – Madrid was certainly buzzing about the 23-year-old's seemingly imminent arrival in the capital.
Perez was just as certain, if not more so, that the red white carpet was about to be rolled out for his latest prized capture, with a long-running transfer saga set to end in possibly the biggest player unveiling in Spanish football history.
That, of course, wasn't quite how the story ended, was it?
Behind the scenes, things were shaping up quite differently, building up to a starkly contrasting climax. PSG actually held all the aces, only quietly confident and refusing to show their hand. Not only had the French champions matched Madrid's financial muscle, they'd also made significant concessions that effectively granted Mbappe a hand (or two?) on the club's steering wheel.
Far more was involved, however, in convincing Mbappe to remain. The political forces of two nations with vested interests in the fortunes of PSG and the striker – Qatar and France – were summoned and harnessed in sealing the mega deal that ultimately saw Mbappe abandon his childhood dreams – or, at least, shelve them for later.
Perez didn't see the sucker punch – sent personally by Mbappe, before being publicised hours later at the Parc des Princes ahead of PSG's last [home] game of the season (won, surprisingly, with the help of a Mbappe hat-trick) – coming, and was left smarting after it had landed.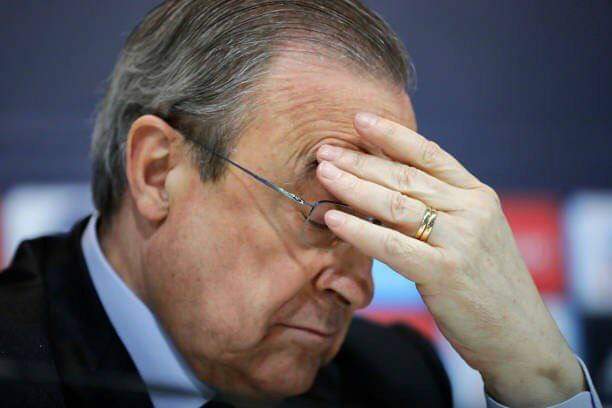 He didn't have to wait too long for his revenge – a tiny slice of it, anyway – though.
A week later – just two Saturdays ago – Madrid had their biggest game of the season, the Champions League final, to contest in PSG's city, Paris. The run to that final had seen Perez exact vengeance on some of those that contributed – directly or otherwise – to undermining the first attempt at launching the ESL.
Stunning comebacks at the Santiago Bernabeu knocked out PSG (one of a handful of European heavyweights to have turned down the ESL invitation, with club president Nasser Al-Khelaifi exploiting the ensuing chaos to emerge as UEFA's darling boy by the time the dust had settled) and English sides Chelsea and Manchester City (the first two clubs whose withdrawal from the ESL triggered the resulting domino collapse) to set up the decisive showdown with Liverpool.
Madrid fans, prior to kick-off, seized the occasion to remind Parisian Mbappe of just what he had missed out on by refusing to join Madrid. If that message didn't go down clearly enough, the team itself drummed it home beyond all doubt later that evening, Vinicius Junior – the young, in-form Brazilian winger whose position on the pitch Mbappe would have claimed, perhaps unfairly – scoring the lone goal that lit up the night and crowned Madrid kings of Europe again.
As long-serving full-back and captain Marcelo hoisted the final piece of silverware of an incredibly well-decorated Madrid career, Perez basked and beamed; he was, just maybe, picturing Ol' Big Ears as his own middle finger, going up in the faces of people far and near: UEFA chief Aleksander Ceferin (the ESL's archenemy, standing just a couple of paces away) foremost, as well as Mbappe and Al-Khelaifi (watching from home, surely?).
In that moment – and, indeed, for a while afterwards – Perez would have felt purged of the afore-discussed failings, recent or distant, replacing some of the egg on his face with a smirk.