"Arsenal we're on your side, our love we cannot hide, our hearts are open wide, to cheer you along the way. We will be standing by, we know how hard you try, whether you win or lose, it's you we choose, so special when you surround. Now you have supporters, who will never let you down, We'll be there to cheer you on, by singing this song …"
One hundred and thirty-five years ago, a group of workers from the Arsenal Armaments Factory in Woolwich decided to form what would become arguably the greatest club in England and in the world of soccer with Plumstead Common as its home ground. 
Initially called Dial Square, currently nicknamed the Gunners, the Arsenal Football Club has set its sights on building and sustaining success by developing a sense of pride and a culture of organic growth, fair play, honor, class, perseverance, persistence and patience. According to the great Sir Alex Ferguson, "I went 13 weeks but I was never near going through a season undefeated. The achievement stands aside. It stands above everything else. And it was Arsenal's."
To speak of Arsenal is to speak of a first-class, well-decorated, high-flying English club with a litany of achievements: thirteen-time Premier League champions, fourteen-time FA Cup winners, sixteen-time FA Community Shield winners, not to mention several Europa League trophy wins over the years. This is a legendary 49/49 club with "the records for longest unbeaten streak and longest run in top flight of English football" and a total of forty-seven trophy wins.
These decorations are proof of the fruits of the values on which the club is founded which I shall touch on briefly:
ORGANIC GROWTH: Unlike our rivals, Arsenal believes in developing talent, investing in potential and creating top-notch superstars. Arsenal is single-handedly responsible for a huge chunk of the talent pool that has consistently honored and elevated the hallowed tradition of British football through

various technical innovations

, through the ages. As of 2019, Arsenal had the youngest team, with the youngest manager in the

English Premier League

! This is as clear a testament you could get to a rock-solid commitment to youth development. When you take time to prepare a process consciously, you trust the process. On the other hand, consider, for example, the pale, Abidjan-blue boys noise-makers in London, plummeting at the speed of light with the oil money spigot turned off. I don't have the time to talk about the chaotic scenes at Theatre of Agony; and a club with a bleak future to look forward to in practically all respects, especially talentwise. You might argue that this is simply my opinion, but then, res ipsa loquitur. Look at the league table!

Fair Play: Arsenal plays by the rules. We win fair and square. 

Honor: Since Arsenal respects the rules, it has the respect of the football community and football enthusiasts across the world.

Class: This is a club that stands for and represents excellence. Just look at the achievements. You get the picture. Arsenal has NEVER been

relegated since the 1992-1993 beginnings and only once before that!   

Perseverance/patience: Gunners never give up. That is our identity. We take defeats well, learn from them, move on and get better every time. For example, last season, Arsenal was 20

th

after losing their first three games. This season, Arsenal is 1

st

after its first three games. You don't achieve such feats through luck and chance. It takes industrial quantities of love and passion for the game to learn from defeat, improve and rise organically. Because Arsenal handles defeat so well, the club is united, with a faithful, solid fanbase. We do not pursue quick fixes like our rivals, most of whom are in the midst of identity crises at the present time and ruptured fanbases because fans only root for their clubs during moments of victory; and do not appreciate the greatness of a comeback story. A true Gunner is a patient one who knows that defeat is a trampoline; when handled well, it sets you up for even greater success. This season's results so far, are living proof. 
With these values constituting our cornerstone, it is no surprise that we play beautiful football; working our way to the goal with pitch control through possession, swift passing and chance creation, like skilled musicians work their way through lyrics and beautiful sounds. Many a Gunner was captivated by such sublime play. Ask the lads at White Hart Lane what that did to them recently. That beautiful football has been deployed to devastating effect this season. Rivals, get ready for the high casualty counts this season with this version of football Blitzkrieg. 
Arsenal has always given a chance to anyone of any background, race, creed or ethnicity to play good football. From the likes of Mezut Ozil, to Takehiro Tomiyasu, to the awe-inspiring Bukayo Saka, to the dazzling Gabriel Martinelli, not forgetting the phenomenal Ghanaian international, Thomas Teye Partey, all are welcome. Arsenal is truly a diverse club. 
Of course, it is critical to mention the guy currently at the helm who is making all this possible: Mikel Arteta. If the Prophet Elijah was Arsene Wenger, then Mikel Arteta is Prophet Elisha. His leadership style is absolutely inspiring. 
At this point in the season, I guess I can say that it is lonely at the top. We are watching an Arsenal dynasty for the ages being built right before our very eyes. Everyone gets to have their turning point. I am optimistic of a Premier League top two spot plus Europa and FA Cup trophy wins this season. For those of you who took time off your daily schedules for years to make Arsenal the butt of every joke, please, look at Arsenal today and ask yourself the question: where is my football club?
Arsenal is in my blood. This club is in my heart and will remain in my heart forever. Apart from the common values we share, the tradition, history and class of this club inspires me to an inconceivable degree. Gunners never give up. That is our identity. We move this season, guns blazing.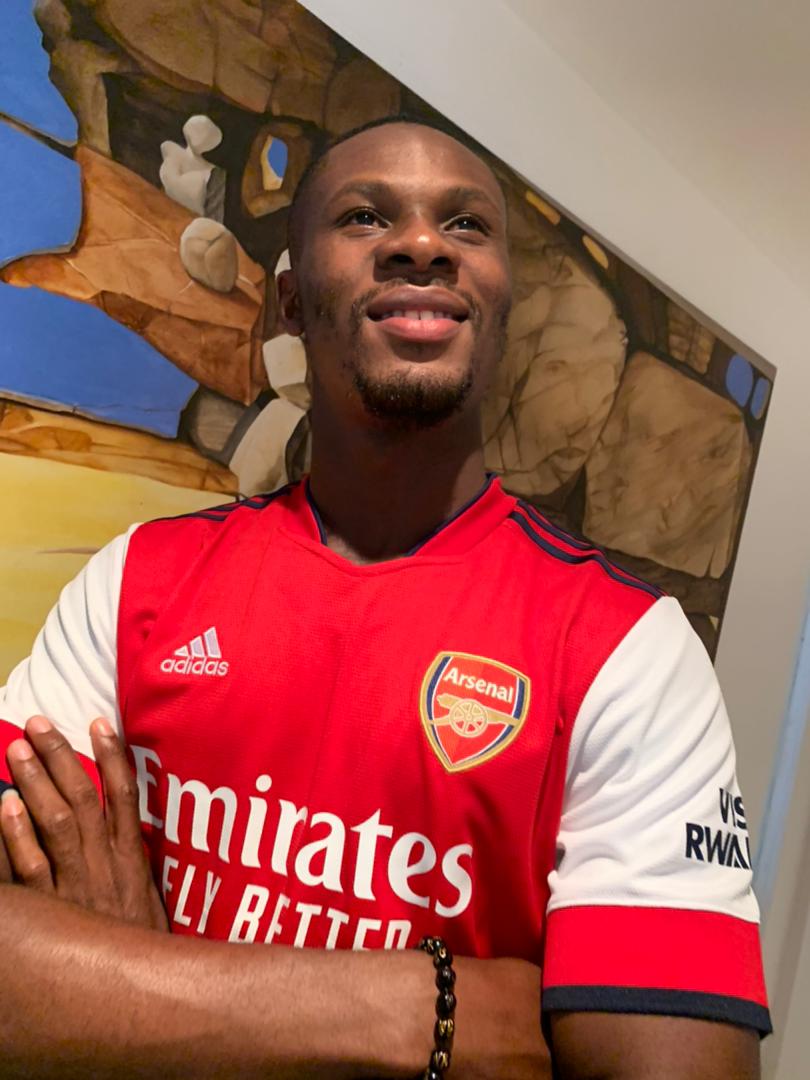 The author is an Energy Market Analyst, Agribusiness and Business Development Practitioner. Arsenal is in his blood.