Paul Pogba says Manchester United's defeat to Everton was 'disrespectful' to everyone involved with the club.
It was a shocking result for Ole Gunnar Solskjaer and his side on Super Sunday, suffering a 4-0 loss and taking a major hit to their hopes of a top-four finish.
Following scathing pundit analysis of United's capitulation at Goodison Park, Pogba offered his own frank assessment of the defeat and says he and his team-mates need a reaction in the Manchester derby on Wednesday, live on Sky Sports.
"I wish I knew [what went wrong]. It was the details, the desire, we spoke about courage and everything we had when the manager came," Pogba exclusively told Sky Sports' Laura Woods.
"What we had there, it was just like another team and this is not good. It is not good for Man United, for the story of the club or for the fans. It is not good at all what we did. Losing a game is something really bad that we don't want to when we are in the race for the top four and losing 4-0 as well.
"Not to be disrespectful and I am not disrespectful on Everton, but the way we played and the performance of myself, of the team, of everyone is disrespectful. We didn't respect ourselves, the club or the fans.
"Sometimes, you try to give everything but nothing comes with it. You keep trying, you might lose some balls that you might not lose, you lose some challenges that you win, and most of the time we would create chances that we would score but we missed.
"Everything went wrong but the most important thing is the mentality that we put on the pitch – that has to change. Now it is in the past and we cannot stay on the past because it is a headache. You have to think about the next game and do better.
"[In the dressing room after the game] we let the manager speak, the staff speak and they spoke the truth. They said what happened in the game and it is not respectful for ourselves.
"What we did on the pitch is not respectful for the team-mates, for the staff, for the people, for the kitman, for everyone. For their work, they put their life on us, the team and this club. What we showed on the pitch, we did not give them the joy back and that's why we are angry with ourselves. We want to do better for sure and we have to. The reaction has to be there.
"I want to say [to the fans], and I know it may not be enough, but the fans want a reaction from the players and the only way to apologise to them is to give everything on the pitch, do our best, create chances, score goals, defend, work for the team and we can even lose games, but with a good performance and pride on the pitch.
"That's how we should apologise to the fans, just to give everything for us, for the club, for the shirt, for the team-mates and for ourselves as well because it is us on the pitch and we cannot perform like we did."
'We need to go back to basics'
Ole Gunnar Solskjaer struggled to answer when asked if his United players care enough, after their defeat at Everton
Solskjaer also criticised his side after their thrashing at Everton, admitting he was unsure if they cared enough about Man United.
Asked about his manager's reflections, Pogba added: "What I understood on this is when you wear this shirt at this club it is, first of all, because you deserve it, but when you deserve it, you have to work and respect the culture, the history of this club and give everything on the pitch.
"I don't want to be harsh with my words but we don't want to look like we did yesterday because the body language was not good enough for this shirt. When you're here, you deserve it and you have to give your life on the pitch. You have to work, you have to sweat for this shirt and you have to give everything.
"The key thing is to go back to the basics. It is really simple, but it is really hard because the basic things are working for your team-mates, stay in your position, defend, don't let the player cross, win the second ball – those things, we don't really talk about this, but they are details that make the difference in a game. You go for it and you go for scoring a goal, not just to cross the ball. Those things like that are just basics but they are so important."
'Playing in derbies is beautiful'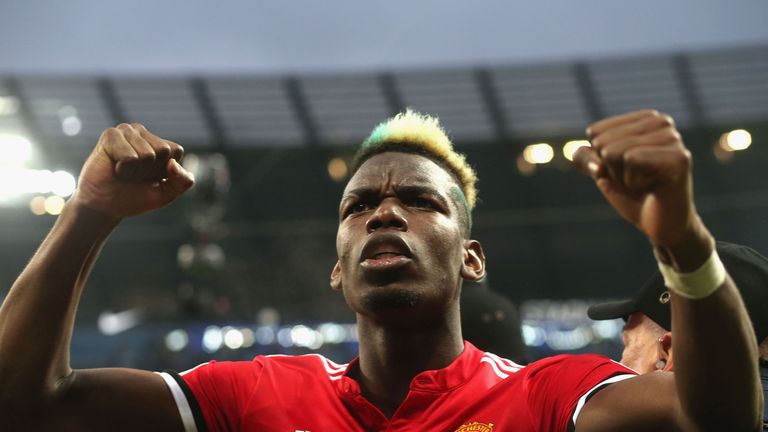 It was this time last year when United made the short trip to the Etihad and came from 2-0 down at half-time to win 3-2 and deny Manchester City the chance to win the title that day.
Pogba scored twice to level the scores before Chris Smalling fired home the winner and they face each other again on Wednesday – this time at Old Trafford – as City battle against Liverpool for the Premier League title.
"I wouldn't say it is the same situation [from a year ago], because they need to win as well, they really need it and so do we," Pogba said.
"We are both in a race for something – them for the title and us for the Champions League for fourth or third place – so it is going to be a tough one and a very important one.
"This rivalry has always been there, even when I was in the U18s and we would play against City. This derby just wants love, adrenaline, you play for the shirt with two teams in the same city and you just want to beat them.
"You can see that those games are very intense and it is beautiful to play in those games because you get the experience, you have the crowd that are behind you and they just push you. To win those games is really beautiful. It feels like it is different from other games.
Paul Pogba on potentially not finishing in the top four
"Speaking for myself, I love playing against top teams with top players. I love to play against them, it is a game I look at, I learn a lot and I gain experience. I just want to play well against this team and you want to win. It is beautiful to stop teams in the league or in the world, you just want to beat them because to be the best, you have to beat the best so I look forward to those games.
"Obviously we would be very disappointed [if United did not finish in the top four]. Two seasons in a row without trophies is not good at all.
"We are Manchester United and we play to win trophies. Last year, we didn't win any and this year again and now we don't get into the top four, obviously is a very disappointing season. It is not good at all for this club."