Coach Sympathy has been unveiled as a resident juvenile football coach at the Wembley Sports Construction Astro Turfs in Kotobabi.
This follows Citi TV's airing of the documentary "Coach Sympathy: Tactics on a Wheelchair".
As part of the partnership with Wembley Sports Construction as a juvenile coach, he will have access to all Astro turfs owned by the company as he trains youngsters to unearth their talents in football.
He will be in charge of the under-12, 15 and 17-year groups across the country.
Speaking to Citi TV, the CEO of Wembley Sports Construction Company, Robert Coleman said:
"I want to thank Citi TV. I watched the documentary and I was extremely touched that you have someone like Mr. Eduful who we all popularly call Coach Sympathy.

And even in that particular state, you can see the zeal and enthusiasm that he has when it comes to football.

We are all very aware that McDan and Wembley are trying to revive colt's football in Ghana.

As such, I thought it wise to bring him down here because he is trying to develop young players on dilapidated or the parks we call 'Sakoora' parks.

Don't forget we have one park here in Kotobabi, East Legon, Labadi, Madina, Mary Mother, and Ridge.

So instead of him using his hands on the 'Sakoora' pitches, he should be brought here on these descent pitches and train them in a decent way.

So we are extremely happy we have been able to unveil him as our juvenile coach."
James Eduful has also been given a permanent residence at Kotobabi and will be attending a coaching course to harness his technical abilities as a coach.
"Not only is he coming to Accra to teach the kids and harness talents but as part of cooperate social responsibility to take care of him.

We have rented accommodation here for him and will be paying him every month to ensure at least every month he has something for his family.

The company together with McDan has resolved to look at how we can help him enhance his coaching capabilities.

We will send him to a coaching school so that at the end of the day, he will be able to acquire more skills and also impact the knowledge he has."
After his official unveiling, James Eduful, also known as Coach Sympathy expressed his gratefulness to Citi TV for airing the documentary.
He also thanked the kind gesture shown by Wembley Sports Construction in helping him achieve his dream.
"I want to thank Citi TV so much for the wonderful things they are doing for me. They brought this documentary for people to see what I am capable of doing irrespective of my incapability.

I thank Wembley Sports Construction, the CEO of Wembley Sports Construction, and Mr. Coleman.

They have identified me and adopted me and ready to support me.

And also Mr. McDan for trying to revive the colt football. It is a good initiative he is taking and I know we are all going to support him so his dream becomes reality."
Coach Sympathy extended a plea to the government of Ghana to help revive grassroots football in order to unearth more talents in Ghana.
"I want to plead with the government to support the vision of Wembley Sports Construction and McDan.

There are a lot of talents in Ghana but no one is supporting them.

We do not have good pitches to train on it. So I urge the government to support the Wembley Sports Construction to construct more Astro turfs to be able to discover more talents in the country."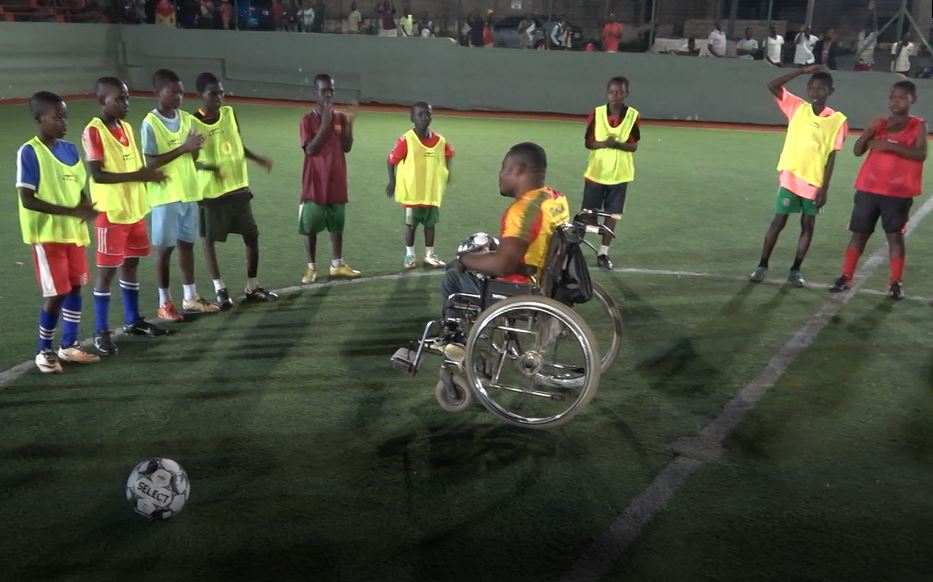 James Eduful held his first training session with the team after his unveiling.