Boxer Patrick Allotey has apologised for his assault on a football fan during the Ghana Premier League match between Hearts of Oak and Asante Kotoko on Sunday.
Allotey, who is currently the WBO Africa Super welterweight champion, was caught on camera punching a football fan in the stands of the Accra Sports Stadium.
Footage of the attack has gone viral, prompting Allotey to finally release a statement, apologising for his actions.
Allotey stated that the violent outburst was unlike him, as he is usually a reserved person.
"Much as I can confirm that I am the one in the video, I wish to state that I am very ashamed of my actions as a professional boxer and truly regret my actions. I therefore take this opportunity to render an unqualified apology to Michael Siaw. I am mostly the reserved type who will hardly talk in public but this time around I don't know what emotions came upon me. I am truly sorry."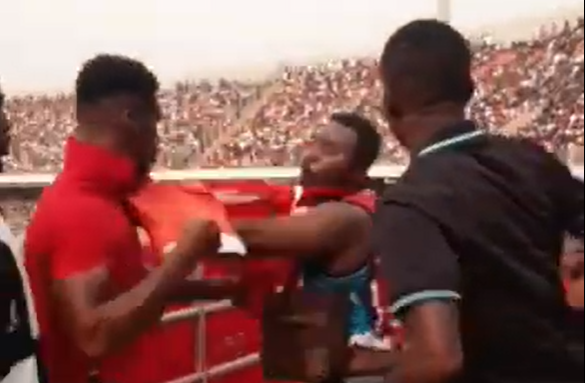 According to Allotey, he and his representatives have reached out to the victim, Michael Siaw, whom he referred to as "my brother" to find a resolution to the matter.
"It is rather unfortunate that a simple game of football can ignite such a passion in me to do what I did, but that is to say I am human and I admit so without feeling right about what I did. I wish to plead for everyone's forgiveness and to reach out to my fans to join me in apologizing to all Ghanaians the rest of the world."
He also advised fans of Hearts of Oak and Kotoko to learn lessons from his predicament and not overreact to losses as he did."
"I have learned a very important lesson and will thus appeal to all Kotoko and Hearts supporters to be each other's keeper. Let us see every game played between these two teams as a match where any of the teams can emerge victorious. The truth is, the losing team will definitely have a chance for a comeback anytime they meet next and that surely is the beauty of the game of football, boxing and sports in general.
Derby knockout
The video of Allotey punching Mr Siaw multiple times in the face in the stands at the Accra Sports Stadium has been shared widely.
Allotey appeared agitated by Siaw's antics, as the Kotoko fan was gyrating right in front of him and took out his anger on him.
Siaw, whose pictures, depicting his injuries, have gone viral, has denied that he provoked Allotey, stating that he was just celebrating Kotoko's goal.
While no statement has been made by the Ghana Boxing Association, it's likely that he will face some sanctions for his actions.
He might also face criminal charges should the fan decide to press charges against him