The death of former Argentina international, Diego Maradona, has sent shockwaves through the world of sport.
Having been acknowledged as one of the best footballers in history, Maradona was admired by many, across various sports.
His death hit a number of athletes, teams and journalists hard, and they took to social media to express their devastation.
Two of his former clubs, Italian club, Napoli and Spanish giants Barcelona, paid tribute to the icon with heartfelt messages.
There were also tributes posted by the Premier League and La Liga, while a number of Europe's football clubs also joined in the outpouring of grief on Twitter.
English striker, Harry Kane, former Crystal Palace and Everton winger, Yannick Bolacie and Michael Owen shared their fond memories of the maverick Argentine.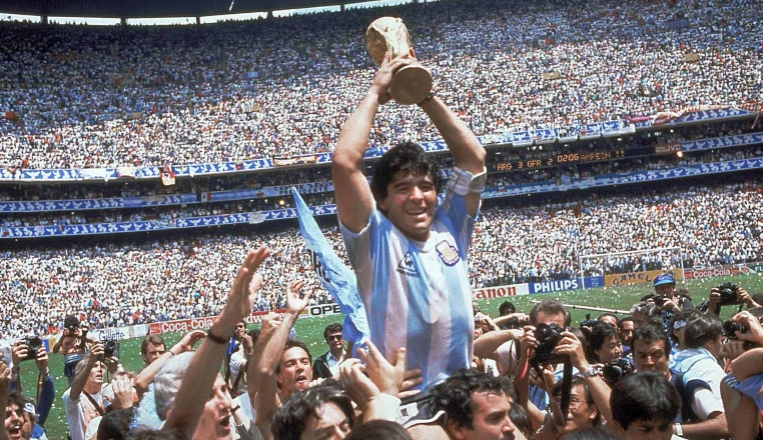 Tributes also continue to pour in from stars of other sports with NBA star, Kristaps Porzingis, sprinter Usain Bolt, tennis star, Andy Murray and the official Moto GP Twitter page tweeting in memory of Maradona.
Ghanaian journalist, Michael Oti Adjei was one of a number of sports journalists to also eulogise the player.
The 1986 World Cup-winning captain is reported to have suffered a heart attack earlier on Wednesday.
Maradona had been hospitalized earlier this month, after suffering a blood clot in his brain.
Take a look at a few of the tributes below:
We are deeply saddened to hear of the passing of footballing great, Diego Maradona, an extraordinarily gifted footballer who transcended the sport.

Our thoughts and sincere condolences to Diego's family, friends and those who knew him. pic.twitter.com/qUyc5BJ1OD

— Premier League (@premierleague) November 25, 2020
𝐋𝐄𝐘𝐄𝐍𝐃𝐀 𝐃𝐄 𝐋𝐚𝐋𝐢𝐠𝐚.

Descansa en paz, Diego Armando Maradona. 🙏 pic.twitter.com/8iC7AcOA66

— LaLiga (@LaLiga) November 25, 2020
A genius of his art. A master of our game. One of the all-time greats.

Rest in peace, Diego Maradona. 💙 pic.twitter.com/SRsFhnGrlX

— Chelsea FC (@ChelseaFC) November 25, 2020
Thank you for everything, Diego pic.twitter.com/bJ9l3ixY7A

— FC Barcelona (@FCBarcelona) November 25, 2020
Always in our hearts 💙

Ciao, Diego pic.twitter.com/I2gTWqdtdB

— Official SSC Napoli (@en_sscnapoli) November 25, 2020
Quite simply – a player like no other.
Rest In Peace Diego Maradona. pic.twitter.com/J5QM6Qm7e5

— michael owen (@themichaelowen) November 25, 2020
A genius with the ball at his feet, and undoubtedly one of the greatest to ever play the game.

His legacy will live on forever.

Rest in peace, Diego Armando Maradona. 🙏 pic.twitter.com/RzhlBxUEDo

— AS Roma English (@ASRomaEN) November 25, 2020
Wow! 😪😓 RIP to a Real LEGEND!!!! #Maradona 🕊💫 pic.twitter.com/Wf10gawPFq

— Yannick Bolasie (@YannickBolasie) November 25, 2020
Privileged to have met him. Very sad news. RIP Diego Maradona. pic.twitter.com/x2LcIeQPqr

— Harry Kane (@HKane) November 25, 2020
https://twitter.com/kporzee/status/1331642733488902145?s=08
That moment. That Diego Maradona moment pic.twitter.com/VzVw9VAcKU

— Michael Oti Adjei (@OtiAdjei) November 25, 2020
A true football legend passed away.

It was an honor to have you in our stadium. Rest in peace, Diego Maradona 🌹 pic.twitter.com/38KAPadvHy

— PSV (@PSV) November 25, 2020
A sad day for football…

Rest in peace, Diego #Maradona pic.twitter.com/InO6895upl

— TSG Hoffenheim EN (@tsghoffenheimEN) November 25, 2020
A true great of the game.

Rest in peace, Diego Maradona. pic.twitter.com/jImGjnjhUl

— Liverpool FC (@LFC) November 25, 2020
RIP to legend #Maradona 🙏🏿 pic.twitter.com/U9KdyRhGBE

— Usain St. Leo Bolt (@usainbolt) November 25, 2020
Goodbye to one of football's greatest.

Rest in peace, Diego Maradona. pic.twitter.com/aKLPmy4u3G

— Olympique Lyonnais 🇬🇧🇺🇸 (@OL_English) November 25, 2020
"If I die, I want to be born again and I want to be a footballer. And I want to be Diego Armando Maradona again. I am a player who has given people joy and that is enough and I have enough" – Diego Armando Maradona pic.twitter.com/AFp8xqHhXE

— Sporting CP English (@SportingCP_en) November 25, 2020
💙 The thoughts of everyone at #itfc are with the family and friends of Diego Maradona, following the news of his passing.

One of the all-time greats. pic.twitter.com/iABpsKRkCi

— Ipswich Town FC (@IpswichTown) November 25, 2020
We're saddened to learn of the passing of Diego Maradona

A true sporting giant and one of the greatest footballers of any generation

The #MotoGP family sends its sincere condolences to his family and friends pic.twitter.com/hi9FItVpCF

— MotoGP™🏁 (@MotoGP) November 25, 2020
Arguably one of the greatest sportsman of all time. Saddened to hear about the passing away of the great Diego Maradona.
My heartfelt condolences to his family. pic.twitter.com/L7ewMHOnnJ

— Virender Sehwag (@virendersehwag) November 25, 2020
Rest in peace, Legend. 🙏

Diego Maradona. 🖤 pic.twitter.com/Ftw1h1TNuc

— Paris Saint-Germain (@PSG_inside) November 25, 2020