In Part one of Citi Sports' Fentuo Tahiru Fentuo's exclusive with former Ghana track star Vida Anim, she opened up on her journey from a small village in Atebubu-Amantim to global super stardom, navigating the intricacies of her 13-year athletics career, and raising a 2-year old.
In part two of the interview, the 37-year old talks about about how she ended up in Germany, her memories when competing for Ghana, her clash with Prof. Francis Dodoo at the 2011 African Games and the country's hopes for that elusive Olympic medal in athletics.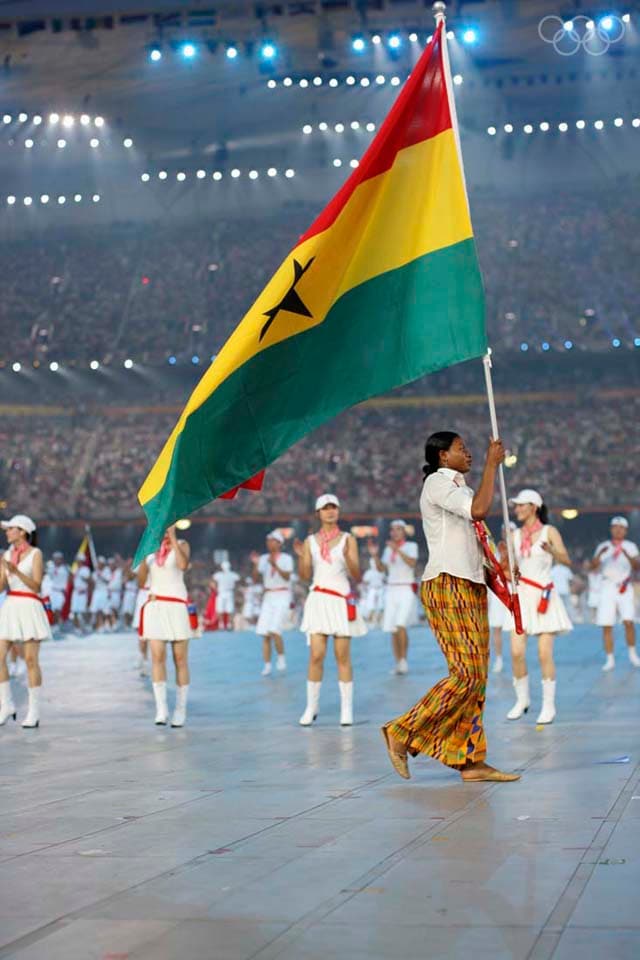 *****
Fentuo Tahiru Fentuo: Your era was, for sure, a good period for Ghana athletics, but the country has declined in recent years. In fact, the last individual gold medal any woman has won at the continental level was yours, back in 2006. What do you think has accounted for this decline?
Vida Anim: I don't think much has changed, we have a lot of athletes going to the USA for school, where they only compete in inter-school events. Back in my day, we competed in both European and American seasons. You can't compete for two months in a year and expect to be one of the best. You need to be constantly working and trying to improve. If you pay attention to the top athletes, they compete on multiple fronts and that's why they're so good.

I also had the scholarship to go to school in America and train there along with my husband, actually, but I don't know what happened and they later sent me to Senegal. I did not like it in Senegal because I was getting injured often and I asked Mr. BT Baba (then president of Ghana's Olympic Committee) for a change, and they worked out Germany for me.

So maybe, if I had gone to the US, I probably wouldn't have done as well as I did. But everything happens for a reason.
FTF: Can you clarify the scholarship situation?
VA: There was some confusion about the scholarship. We were ready to go to the US but were later instructed to move to Senegal, which my husband declined. We don't really know what caused the change in plans but Nkansah [Eric] worked for me to come to Germany and I'm thankful it turned out the way it did.
FTF: There were threats of nationality switches during your time. Margaret Simpson issued one and Ignatius Gaisah actually went through with his, switching to compete for The Netherlands. Did you ever consider changing nationality, too?
VA: There was a year when I did. Despite being granted International Olympic Committee scholarships, we were not being treated fairly by the national authorities. Certain payments were not being made and we had to pay some expenses ourselves which we shouldn't have.

We had to pay for things like medical bills and travel etc. It caused a lot of difficulty because the prize money was gone as soon as it came.  It was so difficult to get money from the Ghana Athletics Association. We even had to threaten strike action, because we were barely able to make a living as all the prize money was already gone.  A lot of promises were broken, and when you demanded what you were owed, they turned on you.

I strongly considered competing for Germany, as my coach was training for the country and I was, thus, eligible for a switch.
FTF: We are glad you didn't switch and the country is grateful. Let's wrap up with some quick-fire questions. First, what was your favorite competition throughout your career?
VA: The 2006 African Championships brought the best, but there were other competitions in which I surprised myself — everything clicked when I got onto the tracks, and it left a lasting memory.

Ahead of my last championship, Maputo 2011, I was injured. I was in a lot of pain and no one knew, so they ridiculed me because of my poor performances, because I only finished 4th in the nationals.

In Ghana, everyone was saying I was finished. Francis Dodoo (GAA President) said, and I quote him; "I will retire you."

He said it to my face; I couldn't tell whether or not he was serious, but he said that. I think he was excited because we had some good prospects coming up. In the end, I was the only Ghanaian female sprinter who got a solo medal — silver in the 200m — and I was glad I won because the way he spoke to me was not nice, jokingly or not.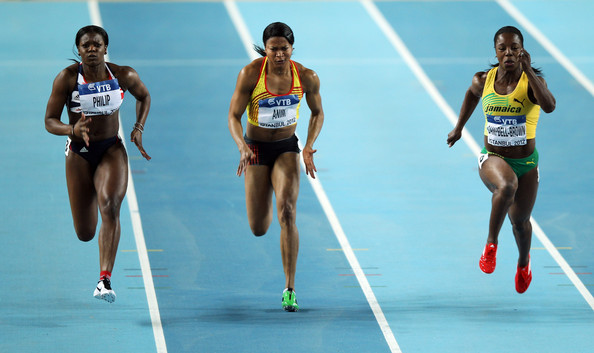 FTF: You alluded to that Kumasi Grand Prix in 2011 – probably the biggest athletics competition ever organized in Ghana. How can we get to putting together competitions like that again, and more consistently?
VA: We give football so much support and there is little left for athletics. We also need funds, however, as we travel a lot — for events, to train etc. They need this support to move the sport forward.
FTF: Why do you think we seem to do better in the relays than in the individual events as a country?
VA: The relay is different because, apart from the starter, everyone has a running start. Only the starter has to use the blocks; the rest don't. Even if everyone runs above 11 seconds, they can all run under 42. The individual time isn't as important here, as it is more about teamwork and practice. You just need one person who is very quick and, if the successive changes of baton run smoothly, you will do well.
FTF: Do you have any regrets competing for Ghana?
VA: I don't have any regrets. Without athletics and without competing for Ghana, I wouldn't have the life I have now, and I am happy. It was an honour to compete for Ghana.
FTF: Tell me about the feeling when you compete and win for Ghana and your national anthem is played. How's that feeling like?
VA: The joy is different, hearing your national anthem on such stages. It is a special moment, knowing it is a culmination of your efforts and achievements. The feeling is inexplicable. I can't explain it. You have to experience it to know it.
FTF: When you were leaving the scene in 2012, was there any upcoming athlete that you thought had it in her to break your records? And how do you feel about them 8 years on?
VA: Flings Owusu-Agyapong was really good in the 100m when she was coming up, and I was helping Janet Amponsah with the 200m because she was really good.

I expected Flings to do something special. I thought she was the next big thing in the 100m, but, somehow, they never reached the heights I expected and I don't really know what happened.
FTF: Before I let you go, it's an Olympic year and we are back to the discussion about Ghana never winning an Olympic medal in athletics. What are the country's chances of breaking that jinx?
VA: Anything is possible, but we have to do the right things. Our athletes are just as talented but we lack the facilities. Africans are strong, naturally, so if we put things right we can do it. With the right training and preparation, we really can compete with the likes of USA and Jamaica. We can't eat all the banku and fufu and then say we are not strong enough to compete with them.
Vida Anim's Competition record
Year
Competition
Venue
Position
Event
Notes
Representing  Ghana
1999
All-Africa Games
Johannesburg, South Africa
8th
200 m
23.81
2000
African Championships
Algiers, Algeria
1st
4 × 100 m relay
43.99
Olympic Games
Sydney, Australia
9th (sf)
4 × 100 m relay
43.19 (NR)
World Junior Championships
Santiago, Chile
4th
100 m
11.58 (wind: +2.0 m/s)
3rd
200 m
23.81 (wind: +0.7 m/s)
2002
Commonwealth Games
Manchester, United Kingdom
21st (h)
100 m
12.27
2003
All-Africa Games
Abuja, Nigeria
3rd
100 m
11.29
2nd
200 m
23.17
World Championships
Paris, France
13th (qf)
100 m
11.29
14th (sf)
200 m
23.16
2004
World Indoor Championships
Budapest, Hungary
11th (sf)
60 m
7.25
Olympic Games
Athens, Greece
31st (qf)
100 m
DNF
2005
World Championships
Helsinki, Finland
17th (qf)
100 m
11.41
19th (h)
200 m
24.16
2006
Commonwealth Games
Melbourne, Australia
12th (sf)
100 m
11.51
6th
200 m
23.34
African Championships
Bambous, Mauritius
1st
100 m
11.58
1st
200 m
22.90
1st
4 × 100 m relay
44.43
World Cup
Athens, Greece
3rd
100 m
11.21
3rd
200 m
22.81 PB
3rd
4 × 100 m relay
43.61
2007
All-Africa Games
Algiers, Algeria
3rd
100 m
11.33
2nd
200 m
23.29
1st
4 × 100 m relay
43.84
World Championships
Osaka, Japan
20th (qf)
100 m
11.36
26th (qf)
200 m
23.47
12th (h)
4 × 100 m relay
43.76
2008
World Indoor Championships
Valencia, Spain
22nd (sf)
60 m
7.45
African Championships
Addis Ababa, Ethiopia
2nd
100 m
11.43
6th (sf)
200 m
23.76
2nd
4 × 100 m relay
44.12
Olympic Games
Beijing, China
15th (sf)
100 m
11.51
2009
World Championships
Berlin, Germany
13th (sf)
100 m
11.43
20th (sf)
200 m
23.36
2011
All-Africa Games
Maputo, Mozambique
4th
100 m
11.37
2nd
200 m
23.06
2012
World Indoor Championships
Istanbul, Turkey
18th (sf)
60 m
7.36
Olympic Games
London, United Kingdom
43rd (h)
200 m
23.71