Vida Anim is considered Ghana's greatest female sprint star in history. Now 37, the former Osei Kyeretwie Secondary School student set individual records in both the 100m and 200m events while forming a crucial member of a relay team that also set a national record in the 4x100m.
She won the country multiple gold medals at the African Championships and the African Games, while winning Africa 3 bronze medals at the now defunct IAAF Continental Cup which assembled the best teams from each continent for a weekend's competition.
Anim's last competition for Ghana was at the London 2012 Olympics, after which she retired to live a quiet life with her husband Harry Adu Mfum, himself a former national athlete, in Koln, Germany.
In this exclusive interview with Citi Sports' Fentuo Tahiru Fentuo, Anim opens up on her journey from a small village in Atebubu-Amantim to global super stardom, navigating the intricacies of her 13-year athletics career, and raising a 2-year old.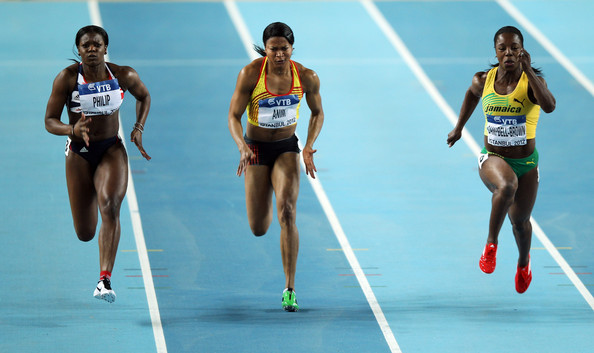 ******
Fentuo Tahiru Fentuo (FTF): Can you kindly update us on what you been up to since you left athletics?
Vida Anim (VA): I left athletics in 2012 after the London Olympics; that was the last time I competed for Ghana. I have been doing my own thing here and there. I live in Germany now and I have completely cut myself off from athletics to focus on other affairs. I don't want to get involved in athletics anymore.
FTF: When you say you don't want to get involved in athletics, is that to say we should rule out you becoming a coach or a trainer in the future?
VA: Yes, exactly. I am not planning to come back to athletics. Already, my husband is a coach (Harry Adu Mfum, a former national athlete) and I have a child at home so I have decided to stay out of it to do my own thing.
FTF: How old is your kid?
VA: Norbert, my only kid, is a two-year-old.
FTF: Does he also have the legs for athletics?
VA: Haha, they look okay. The way he is jumping around, we are hoping that one day he will be a Usain Bolt. We will see.
FTF: Have you followed what's happening with regards to Ghana athletics?
VA: A few years after I left the sport, I used to check on the Internet and keep up. But for the past 3 years, I haven't really had the time to do so and it started after I got pregnant 3 years ago, so I don't really know what's happening at the moment.
FTF: Okay, let's speak about things you definitely keep up with. You are Ghana's record holder in the women's 100m. Do you remember what it felt like to become the fastest woman in Ghana?
VA: I think I broke that record in the 2004 Olympics in my heat. I unfortunately got injured in the next round, so I couldn't do more after that. It felt good to break the Ghanaian national record. I was overjoyed beyond words; my coach said I did it effortlessly, I was so motivated for the semis but I got injured.
FTF: The Olympics is definitely special and to set a national record there is amazing. But your most successful year in Ghana certainly was in 2006 when you won 3 gold medals in the 100m, 200m, and 4x100m African Championships. What made that year so special?
VA: 2006 was the best year in all my athletics career for sure and it was special because the injury I suffered in the 2004 Olympics took me out for long and for the whole of 2005, I did not compete. So I was surprised I did so well in 2006 because I hadn't done much running the year before. The way I performed, especially in the relays, even I was surprised. Looking back, that was definitely my best year.
FTF: That's amazing, indeed. I'd like to take you back to the beginning. When did you realize you could be a sprinter?
VA: It was by chance. I was in school in my village called Atebubu-Amantin in what was formerly known as the Brong-Ahafo region. Our school used to compete and I just decided to try sprinting. There were only two schools in my town so it was a big deal. The other school (Anglican) used to win every year but the year I competed, my school won because I won so many events, including high jump and long jump. They would usually take the best from the districts to Sunyani, the capital, for the regional competition but, even then, we never thought anything of it.

Later my family moved to Konongo-Odumase in the Ashanti Region and, when I got to the school, they were having a sports competition. They had run all the events except the 4x100m relay and they asked me if I could run and I said yes.

When the baton was handed to me, I was way behind but I caught up with the girl in front of me and everyone was like 'wow, who is this girl?'.

That was when my dad decided I should take it seriously and then one man spotted me and eventually moved me to OKESS (Osei-Kyeretwie Secondary School) in Kumasi.
FTF: And at OKESS, you were already competing for Ghana even in your first year. Tell me about how you got into the national team.
VA: OKESS was a sports school. I don't know if it's still like that, but when I got there we got the chance to train in the stadium and the national coaches and athletes got to see us. Competing with them when we were still in school was very difficult. I used to win the juniors but I was 2nd or 3rd among the seniors.

So I got special attention from the coaches that enabled me to train during school hours, and I spent a lot more time training and less in the classroom. I was competing against athletes who trained abroad but I was able to hold my own.
FTF: When you went to the African Games in South Africa in 1999, you were still a form one student. How was it like for you?
VA: It was really fun. It was my first time on a plane. I had never travelled outside Ghana before. I placed 8th in the 200m heats but, to be fair, I had never even used starting blocks or spikes before then so it was an adjustment. I used to run barefoot so using all those new equipment was new to me.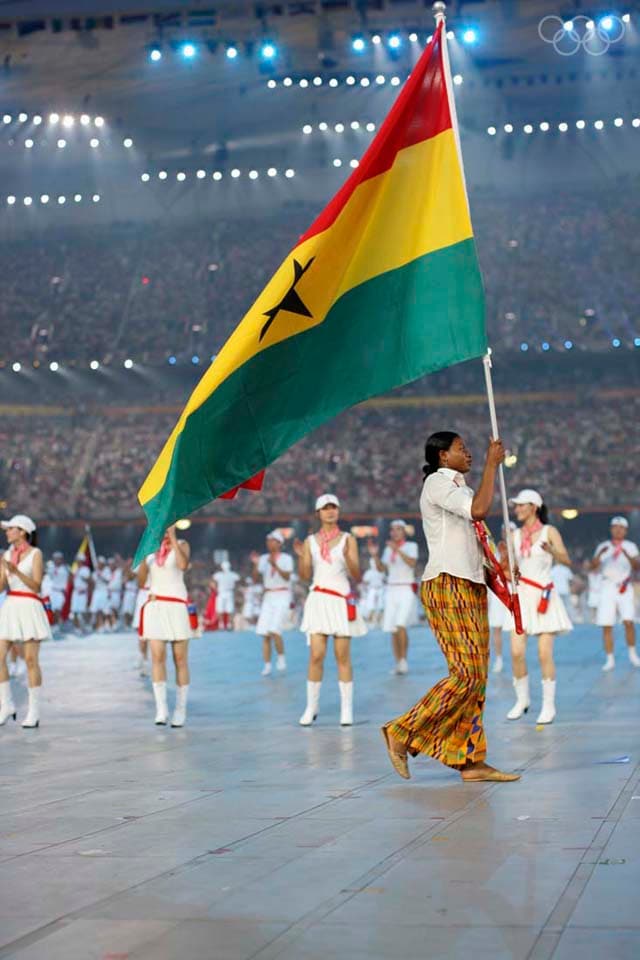 FTF: A year later, in 2000, you participated in three competitions, winning bronze at the World Youth Championships in Santiago-Chile, a 4x100m gold at the African Championships in Algeria, and set a national record in the 4x100m at the Sydney Olympics. Tell me about that record-setting run in the latter.
VA: Yes, that was an interesting competition. It was funny because there were 8 strong sprinters at the time, with everyone trying to make the team, and I was the youngest among them. That year, during the nationals, I was second in the 100m and 3rd in the 200m and I should have automatically been selected but the seniors were playing politics with it and I was dropped.

But after they ran the heats, it didn't go too well, so they dropped one of them and drafted me in. Thankfully, as nervous as I was, I managed to finish strongly and we set a national record. It was only Vida Nsiah, and one Helena, who were advocating for me; the rest of the athletes were not happy at all, but I thank God we delivered.
FTF: You set two national records in the 200m and still hold the 100m national record (11.14s), but which event would you say was your favorite?
VA: I preferred the 200m because the 100m is so quick and my start wasn't too good. In the 200m, I was able to pick up pace better so that was definitely my favorite.
***
You can read part two of the interview here, where Anim talks about how she ended up in Germany, her memories when competing for Ghana, her clash with Prof. Francis Dodoo at the 2011 African Games and the country's hopes for that elusive Olympic medal in athletics.
***
Vida Anim's Competition record
Year
Competition
Venue
Position
Event
Notes
Representing  Ghana
1999
All-Africa Games
Johannesburg, South Africa
8th
200 m
23.81
2000
African Championships
Algiers, Algeria
1st
4 × 100 m relay
43.99
Olympic Games
Sydney, Australia
9th (sf)
4 × 100 m relay
43.19 (NR)
World Junior Championships
Santiago, Chile
4th
100 m
11.58 (wind: +2.0 m/s)
3rd
200 m
23.81 (wind: +0.7 m/s)
2002
Commonwealth Games
Manchester, United Kingdom
21st (h)
100 m
12.27
2003
All-Africa Games
Abuja, Nigeria
3rd
100 m
11.29
2nd
200 m
23.17
World Championships
Paris, France
13th (qf)
100 m
11.29
14th (sf)
200 m
23.16
2004
World Indoor Championships
Budapest, Hungary
11th (sf)
60 m
7.25
Olympic Games
Athens, Greece
31st (qf)
100 m
DNF
2005
World Championships
Helsinki, Finland
17th (qf)
100 m
11.41
19th (h)
200 m
24.16
2006
Commonwealth Games
Melbourne, Australia
12th (sf)
100 m
11.51
6th
200 m
23.34
African Championships
Bambous, Mauritius
1st
100 m
11.58
1st
200 m
22.90
1st
4 × 100 m relay
44.43
World Cup
Athens, Greece
3rd
100 m
11.21
3rd
200 m
22.81 PB
3rd
4 × 100 m relay
43.61
2007
All-Africa Games
Algiers, Algeria
3rd
100 m
11.33
2nd
200 m
23.29
1st
4 × 100 m relay
43.84
World Championships
Osaka, Japan
20th (qf)
100 m
11.36
26th (qf)
200 m
23.47
12th (h)
4 × 100 m relay
43.76
2008
World Indoor Championships
Valencia, Spain
22nd (sf)
60 m
7.45
African Championships
Addis Ababa, Ethiopia
2nd
100 m
11.43
6th (sf)
200 m
23.76
2nd
4 × 100 m relay
44.12
Olympic Games
Beijing, China
15th (sf)
100 m
11.51
2009
World Championships
Berlin, Germany
13th (sf)
100 m
11.43
20th (sf)
200 m
23.36
2011
All-Africa Games
Maputo, Mozambique
4th
100 m
11.37
2nd
200 m
23.06
2012
World Indoor Championships
Istanbul, Turkey
18th (sf)
60 m
7.36
Olympic Games
London, United Kingdom
43rd (h)
200 m
23.71