Fourteen (14) athletes will represent Ghana in the 28th edition of the Olympic Games, which will be hosted in Tokyo, Japan.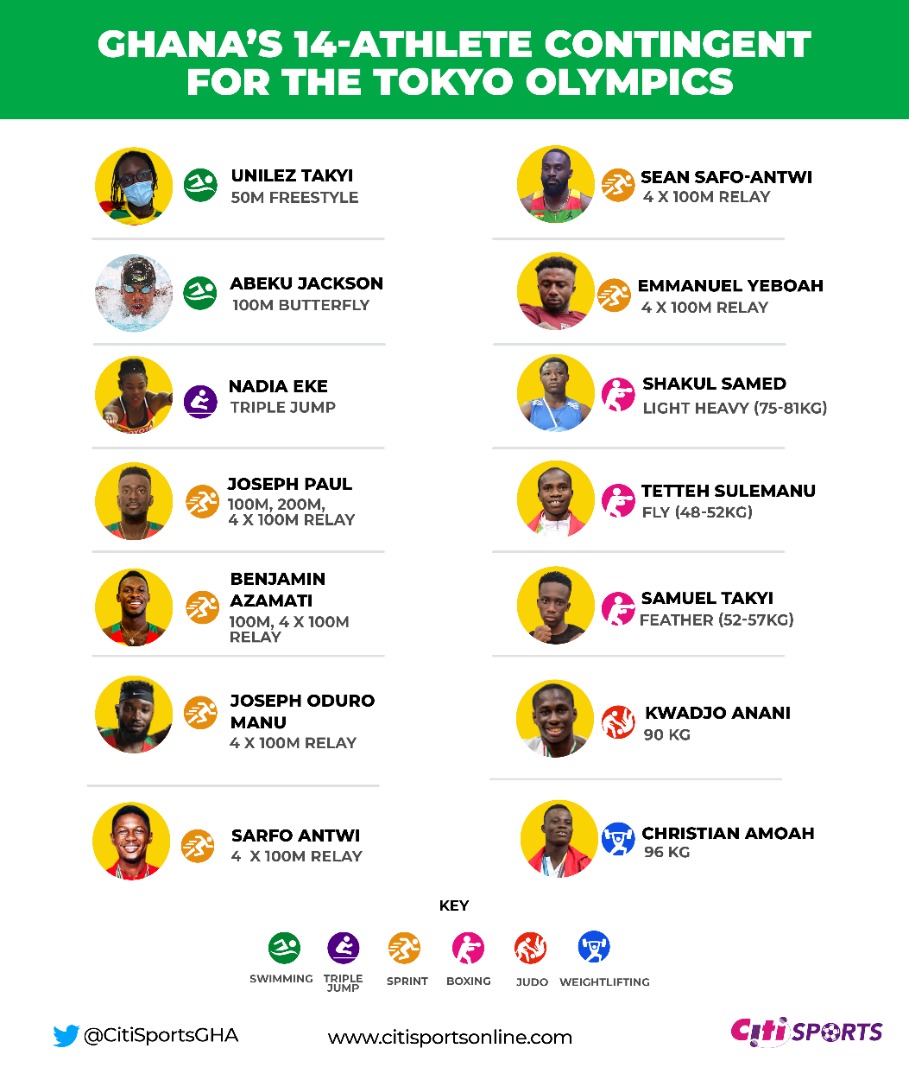 The 14 athletes will be hoping to win another medal for Ghana, with the last coming in the 1972 Games in Munich.
The various athletes will compete in six sports disciplines, namely: athletics, triple jump, swimming, judo, boxing and weightlifting.
Among the disciplines, boxing has the most number of representatives, with the Black Bombers having a total number of three athletes –  Skipper Suleman Tetteh (Flyweight), Samuel Takyi (Featherweight) and Shakul Samed (Light Heavyweight).
While some athletes are new to the Olympics, the likes of Suleman Tetteh, Christian Amoah have had a taste of previous Games and will be looking forward to going a step further to win a medal for themselves and the country this time around.
Ghana's 4×100 team will be hoping to impress at the Games after qualifying for the Olympics in Silesia, Poland at the end of May.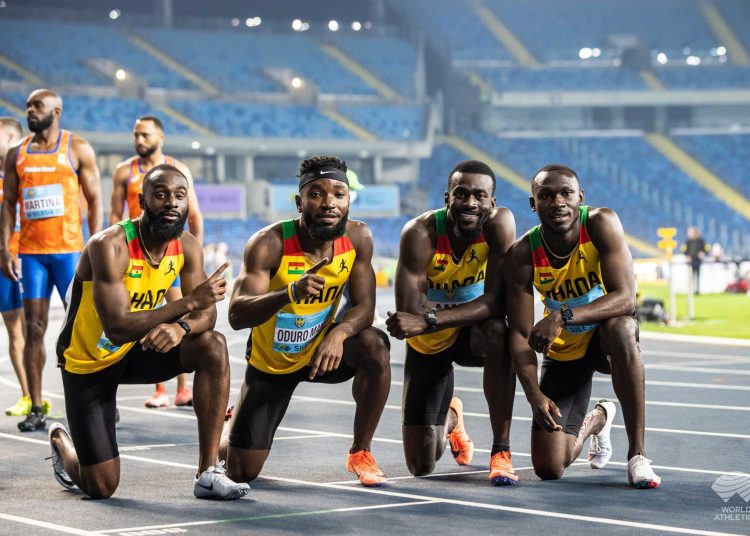 Ghana finished second in their heat to the Netherlands by a mere eight one thousand of a second, after both teams crossed the finish line in 38.79s.
The two swimmers, Abeiku Jackson and Unilez Takyi booked a spot for Games via the wildcard option, with the former, making it to the Olympic Games for the second time.
Nadia Eke, who was one of the first Ghanaian athletes to qualify for the Games, will also be hoping to take things further in her career, as she aims for her first Olympic medal.
The Black Bombers, together with Christopher Amoah, have already departed Ghana for Japan, where they have commenced a three-week training camp to adequately prepare them for the Games.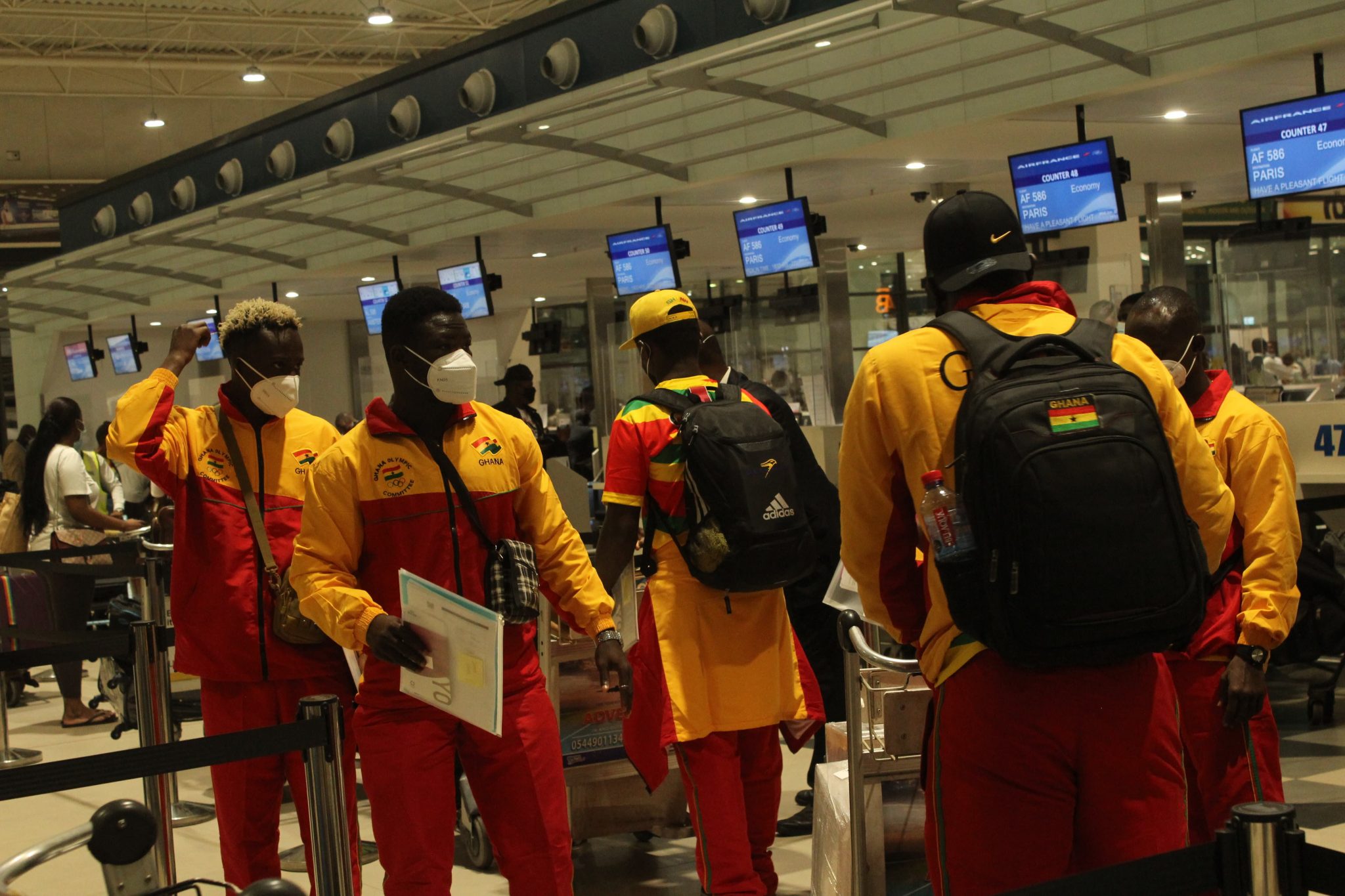 Full list:
TAKYI UNILEZ – (W) 50 m Freestyle (Swimming).
JACKSON ABEKU  – (M) 100 m Butterfly (Swimming).
EKE NADIA – (W) (Triple Jump).
AMOAH JOSEPH PAUL – (M) 200 m,  4 x 100 m Relay (Athletics).
AZAMATI-KWAKU BENJAMIN – (M) 100 m, 4 x 100 m Relay (Athletics).
ODURO MANU JOSEPH – (M) 4 x 100 m Relay (Athletics).
SAFO-ANTWI SEAN – (M) 4 x 100 m Relay (Athletics).
YEBOAH EMMANUEL – (M) 4 x 100 m Relay (Athletics).
SAMED SHAKUL – (M) Light Heavy (75-81 kg) (Boxing).
SULEMANU TETTEH – (M) Fly (48-52 kg) (Boxing).
TAKYI SAMUEL – (M) Feather (52-57 kg) (Boxing).
 ANANI KWADJO – (M) Men -90 kg (Judo).
AMOAH CHRISTIAN (M) 96 kg (Weightlifting).