Boxer Patrick Allotey, who was recently summoned by the Ghana Boxing Association (GBA) over his assault of a Kumasi Asante Kotoko fan last Sunday, is in even more trouble.
Allotey turned himself in to the police, accompanied by his manager, on Friday morning after a warrant was issued for his arrest for the incident.
He has since been transferred to the Accra Regional Police Command as investigations proceed.
Pictures have since emerged of Allotey in handcuffs and have gone viral on social media.
This development comes hours after Allotey, who is the current WBO Africa Super Welterweight Champion, was summoned by the GBA to explain his actions.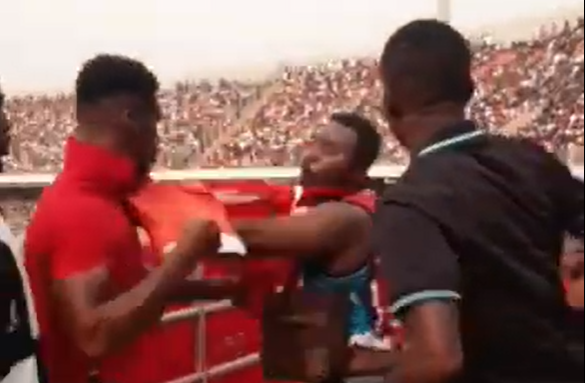 He could face sanctions for assaulting the fan, an action which falls foul of the ethics of the profession.
Derby knockout
The video of Allotey punching Mr Siaw multiple times in the face in the stands at the Accra Sports Stadium has been shared widely.
Allotey appeared agitated by Siaw's antics, as the Kotoko fan was gyrating right in front of him and took out his anger on him.
He has, however, since apologised for his actions, and added that he and his representatives have reached out to Michael Siaw.
Siaw, whose pictures, depicting his injuries, have gone viral, has denied that he provoked Allotey, stating that he was just celebrating Kotoko's goal.