When boxer, Patrick Allotey stepped out of his residence and headed to the Accra Sports Stadium two Sundays ago he did not know that he would be at the center of a controversy that meant he won't enter a boxing ring for at least six months.
Allotey, with a few swings of his arm, has seen his boxing career come to a sudden and very unfortunate halt, with the GBA suspending him for six months.
The incident has also created uncertainty about whether Allotey will remain a free man for much longer as he faces a possible criminal charge as well.
While a number of people have followed the matter quite closely, many others are still getting caught up.
Here's a summary of the series of events that led to Patrick Allotey's half-year ban.
Floored
The scene was set – Hearts of Oak vs Asante Kotoko at the Accra Sports Stadium. The heavyweight clash that everyone had been waiting for was finally here.
Kotoko's late winner stole the headlines but over in the stands, a situation was brewing that stole all the attention during the week.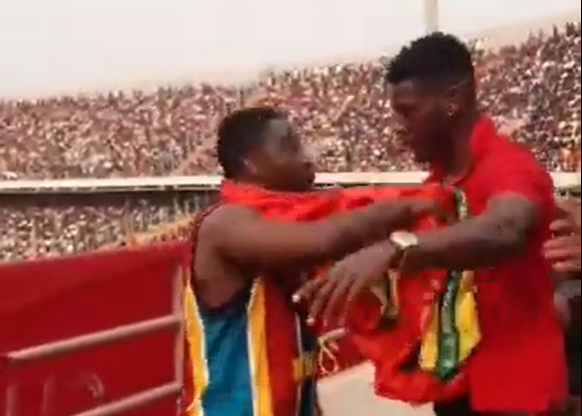 A video emerged on social media, and promptly went viral, of Allotey punching another person in the face in the stands.
The fan, later identified as Kotoko die-hard Michael Siaw was dancing right in front of him apparently in celebration of the Porcupine Warriors' winner. Allotey appeared agitated by Siaw's antics and took out his anger on him.
He had initially tried to get the excited fan to move away but when Siaw refused, Allotey grabbed the front of his shirt, holding him in place as he raised his very well-trained fist.
When the fan refused, Allotey grabbed the front of his shirt, holding him in place as he raised his very well-trained fist. He struck the man three times, sending the man stumbling to the floor before the pair were pulled apart by onlookers.
While some expressed sympathy for the fan who had been struck, others berated him for "causing his own problem"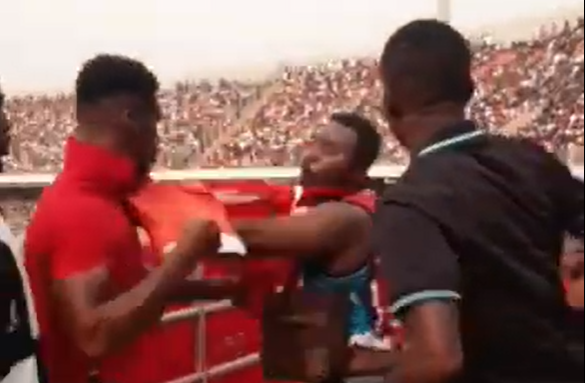 Pictures of the victim soon emerged and were shared widely on social media, showed his face bloody and swollen.
Boxer regret
When the assault had gained mainstream media attention, the victim of the assault was sought out and interviewed.
He denied assertions that he had provoked Allotey into attacking him, insisting that he did not know that he was dealing with a professional boxer.
"I didn't even know he was a boxer, it was after the video went viral that I got to know," he is quoted as having told Kumasi-based Oyerepa FM
"Sincerely I did nothing to merit such an assault from him. I was only jubilating when Kotoko scored. He approached me to leave his presence and before I realized, he had me."
Apology, Advice
The public outrage that greeted the incident pushed Allotey to release a statement apologising for his actions.
Allotey stated that the violent outburst was unlike him, as he is usually a reserved person.
"Much as I can confirm that I am the one in the video, I wish to state that I am very ashamed of my actions as a professional boxer and truly regret my actions. I therefore take this opportunity to render an unqualified apology to Michael Siaw. I am mostly the reserved type who will hardly talk in public but this time around I don't know what emotions came upon me. I am truly sorry."
He also advised fans of Hearts of Oak and Kotoko to learn lessons from his predicament and not overreact to losses as he did.
"I have learned a very important lesson and will thus appeal to all Kotoko and Hearts supporters to be each other's keeper. Let us see every game played between these two teams as a match where any of the teams can emerge victorious. The truth is, the losing team will definitely have a chance for a comeback anytime they meet next and that surely is the beauty of the game of football, boxing and sports in general."
GBA summons
Allotey was then summoned by the Ghana Boxing Association to a disciplinary hearing over his actions.
Boxers are not permitted to engage in fights outside the ring so the incident had contravened the ethics of the profession.
Allotey was set to appear before the Association on Wednesday, February 5, 2020.
Arrest
Allotey turned himself in to the police, accompanied by his manager, last Friday after a warrant was issued for his arrest.
He was then transferred to the Accra Regional Police Command for investigations to proceed.
Pictures emerged of Allotey in handcuffs and went viral on social media.
The boxer was then granted bail.
Allotey had been hoping that an out-of-court settlement would be reached with Siaw but it appears negotiations on that front were unsuccessful.
Suspension
Allotey would have been hoping that his public apology and him reaching out to Siaw would soften the GBA in their consideration of the matter.
He didn't even contest the charges of misconduct against him.
However, the GBA, possibly hoping to make an example of him, suspended his professional license for six months. The GBA said in a statement that Allotey was found liable "on his own plea" and suspended his professional boing license for six months.
The suspension takes effect from today, [Thursday] and will end on August 6, 2020. "The GBA will notify the sanctioning bodies about this development and you are to comply accordingly," the Association added in its statement.
…
For many observers, it has been an intriguing week but for Patrick Allotey, his nightmare is just beginning. Six months away from the sport he loves and has found success in is a terrible but ultimately justified price to pay for 10 seconds of madness.